PUTTING THINGS OFF NOT WHAT IT IS CRACKED UP TO BE
Many people follow this advice from Mark Twain, "Never put off till tomorrow what may be done the day after tomorrow just as well."
This philosophy make work fine for doing your laundry – you might have to re-wear some clothes after spraying them with Febreeze. It also might work well for grocery shopping  – you eat cake for breakfast;  it is made with eggs after all, right?
HERE'S AN EXAMPLE OF WHERE THIS ADVICE CAN HURT YOU IN THE WALLET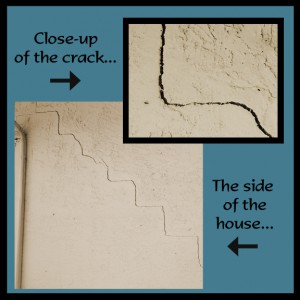 Have you noticed cracks in your drywall or on the exterior of your house?  Are the gaps in the cracks getting larger? Do you have cracking walls that extend from floor to ceiling,  sticking doors, sagging floors or pooling water near a slab foundation? These MAY be signs of problems with your foundation. More advanced or severe damage is indicated by wide cracks in exterior walls or even separation of one section of a house.
IGNORING OR DELAYING REPAIRS ON YOUR HOME CAN LEAD TO DISASTER
Here's why — the longer you wait to treat visible signs of damage, the more severe the damage can become. Left untreated, minor cracks and leaks can turn into serious structural issues that compromise the value and overall health of your home.
Your home's structural integrity depends on the strength of your foundation. It supports everything else – walls, windows, floors, doorways, roof — so when your foundation is damaged, it can cause serious problems throughout your home.
WHAT CAN CAUSE THE DAMAGE?
One cause of a sinking foundation is improper compaction of the soil when your home was built. If the soil is not compacted properly, over time i will no longer be able to support the weight of your house and cracks will ensue.
Also, like other things in life, your foundation is subject to environmental stress. Expanding and contracting soil, excessive moisture and inadequate drainage are also threats to your home's foundation. Over time, environmental stress can cause the foundation to shift, crack or settle unevenly.
Improper drainage: The most common sign of poor drainage is water pooling and forming swampy areas near a home's foundation. Poor drainage can occur as a result of clogged or damaged gutters, or because the land surrounding a home isn't properly graded away from the structure.
Water leaks under the slab: Slab foundations conceal sewer lines and water supply pipes; when a leak develops in a hidden line, it can cause the soil beneath the slab to deteriorate. This type of problem may cause moist areas in interior floors, or homeowners may notice a sudden spike in their water bills – but more often than not a slab leak will go unnoticed. Leak isolation testing is the preferred method for detecting slab leaks.
Tree root intrusions: Large trees can cause foundation problems as roots grow through the soil underneath the home. The intruding roots can exert significant pressure on under-slab water pipes and foundations. They can also leech moisture from the ground, causing soil to contract away from the home.
HELP ME I'M SINKING
A homeowner in Wellington contacted Leading Edge Homes because he wanted us to investigate the cracks and separation he was seeing on the exterior of his home.
Unfortunately for him, the investigation determined that the soil beneath the corner of his house was not compacted at all.  The soil engineers gave the compaction a rating of "10" out of 100, where at least and "95" is required before a structure can be built on top of the soil.
WHAT NEEDS TO BE DONE
The exterior remediation includes pressure grouting beneath the foundation under the watchful eye of a structural engineer.  A special concrete mixture is used to solidify the soil beneath the house.  In addition, part of the exterior wall will be opened up to allow the hollow block cells to be reinforced with steel then poured solid with concrete.
WHAT CAN HAPPEN INSIDE THE HOME
Sadly, the cracks allow for water intrusion.  Several years ago Leading Edge Homes had to do a similar repair for another homeowner in Palm Beach County. They ignored a musty smell in a bedroom for a long time, which turned out to be mold. The exterior cracks and sinking foundation allowed water to get inside the home.
In that case, the homeowner had to have specialized mold remediation performed which included removing the drywall, flooring, and even some of the furniture.
Ignoring the warning signs was quite costly.
LESSONS LEARNED
Don't put blinders on if you see wall cracks thinking that what you don't look at won't bother you. Call in the experts at Leading Edge Homes and we'll determine if the cracks are cosmetic or structural. It is easier and less costly to treat a problem early rather than after severe damage has occurred.
QUESTIONS?
If you have questions about your home, a home you are purchasing, the design process for building a home, or a project you are considering, contact your local design-build contractor, Leading Edge Homes. Inc. 
For all of your new home, home remodeling and inspection needs, contact your local certified "roomologist", Leading Edge Homes. Inc. at 561-795-2551.
Want to see some of our work? Visit our website or view our online book.
---
Todd Perry, a State of Florida Certified Building Contractor and president of Leading Edge Homes, Inc., provided this information.

If you have questions about a home improvement project, call Leading Edge Homes at 561-795-2551 or email Todd at: todd@leadingedgehomes.com and he'll be happy to share his knowledge with you.