HOME REMODELING – Do-it-Yourself or Not?
READY, SET, DO-IT-YOURSELF – OR NOT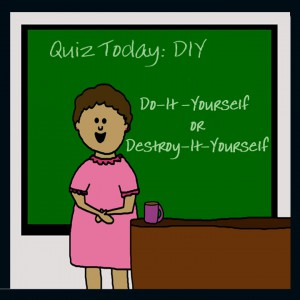 Have you ever watched a home improvement show and decided "I can do it myself." The shows make it look so easy – and the whole house is renovated in just 30 minutes!
It's time for a reality check to see if you should really tackle a do-it-yourself (DIY) project. The National Association of the Remodeling Industry (NARI) created a simple yes-or-no quiz that you should take before you tackle a DIY project.
Take this quiz to find out!
Answer yes or no:
1.  Do you enjoy physical work?
Most home remodeling projects are labor intensive.  You may discover muscles that you didn't even know exist!
2.  Are you persistent and patient?
This reminds me of the a homeowner who decided to tackle removing the old flooring in his home. To his dismay, there were multiple levels of old flooring that had to be removed, he needed to rent special equipment to remove the flooring, and it delayed the completion of his renovation/addition by more than a month.
3.  Do you have reliable work habits—meaning that once the project is started, will it get finished?
How many times have you started a project and then life takes over?  This happens to the best of us.  How much time do you truly have to devote to a project?
4.  Do you have all the tools needed and, more importantly, the skills required to do the job?
Not only do you need to have the tools and the skills, you also need to know the building codes.  Additionally, if the project required a permit, and you do not get one, you can be fined, receive a stop work order, and worse yet – be told to remove all changes you made to your home.
5.  What quality level do you need for this project? Are your skills at that level?
Even painting is not just about getting a paint brush,  a can of paint, and painting the walls.  You need the right type of brush, the right type of paint, and the knowledge of how to prepare the painting surfaces.
6.  Do you have the time that will be required to complete the project?
Time… if only there was more of it. Just because the DIY shows make it look like a project takes no time at all doesn't mean that is true! Always double or triple the time estimated for a DIY project, unless you are highly skilled and familiar with that particular project.
7. Will it matter if the project remains unfinished for a period of time?
People with the best intentions sometimes don't realize how long a project may take.  If you are only working weekends and nights to finish a project that may take 8 weeks, your project may take 20 weeks or more.  How long do you want to live with your house in disarray?
8. Are you prepared to handle the kind of stress this project will create in your family relationships?
A renovation project becomes your life. How will you handle questions like:
            "Why is it taking so long?"
            "What did you do to the wall?"
            "When will it be done?"
            "How much money will that cost?"
             9.  Do you know all of the steps involved in the project?
Another true story – a homeowner hired Leading Edge Homes, Inc. to do an addition.  As the project continued, the homeowner decided to add the new flooring to the rest of the house. Unbeknownst to us, the homeowner decided he wanted to save money and paint the rest of his home. He made that decision after the new flooring was installed. 
The homeowner should have taken this quiz before starting some DIY projects.  He is only painting on the weekends – all of the furniture is sitting in the middle of the room. He didn't think through the steps.  He should have painted before having us install the new flooring! Now there are drips of paint on the new floor. 
10. Is this a job you can do completely by yourself or will you need assistance?
If you do need assistance, what skill level is involved for your assistant? If you need a professional subcontractor, do you have access to a skilled labor pool?
11. Are you familiar with your local building codes and permit requirements?
(Some jurisdictions require that the work be completed by a licensed and bonded professional in order to meet code.) It's best to check these requirements before beginning work on the project.
Remember, if you fail to pull a permit you will end up paying more for your project than you imagine.  Some municipalities charge you a penalty of triple the permit fee if you failed to pull a permit.  Also, if you go to sell your home and work was done without a permit, you will have difficulty selling your home.
12. What will you do if the project goes awry?
Many contractors are wary about taking on a botched DIY job and you may be forced to remove all of your handy work.  All of the money and time you spent may be thrown away.
13. Is it safe for you to do this project?
(If you are not familiar with roofing or do not have fall protection restraints, you may not want to venture into a roofing job. Similarly, if you know nothing about electricity—leave it to the professional. Some jobs can be fatal if not performed correctly. Your health and safety should be the primary concern. Never enter into a DIY project that would jeopardize either.)
14. Will you be able to obtain the materials you need? Who will be your source of supply? Will they deliver?
The quality of some of the items you purchase at a big box store is often times lower than the same items you can purchase from building suppliers.
15. Are you attempting to do-it-yourself for financial reasons?
If so, have you looked at all of your costs, including the cost of materials, your time, and the tools you need to purchase? If you are new to the DIY game, you may also want to look at the cost to correct any mistakes you may make—i.e., the damage factor. Will it still be a cost-saving venture?
If you have to take vacation time to do the project, what is the value of what is lost? 
16. If you are trying DIY for the satisfaction of a job well done—can you ensure that the job will be "well done"?
If it doesn't come out right, how will you feel? Will you be able to afford to redo any unsatisfactory work?
Did you answer YES to some of the questions?
Be honest — How many did you really say yes to? If you answered yes to 8 or more of these questions, NARI says you may attempt a DIY project. But, before you run for the nearest hardware store, revisit those questions you marked "No," and carefully consider the potential problems you will face in those areas if you proceed with the project.
Hiring a professional, like Leading Edge Homes,  might be your best choice. A remodeling project can be  one of the most important investments that you can make in your home.
Work with an experienced roomologist (contractor experienced in room additions and home renovations) to plan and design your home improvement project. The planning phase is equally important to the completion phase. If you can imagine it, we can design it.
---
Todd Perry, a State of Florida Certified Building Contractor and president of Leading Edge Homes, Inc., provided this information.

If you have questions about a home improvement project, call Leading Edge Homes at 561-795-2551 or email Todd at: todd@leadingedgehomes.com and he'll be happy to share his knowledge with you.