We would Recommend Them
"What a great experience! Todd built a 1200 square foot addition to our home. He also extended our patio and then covered it.Todd is very upfront and pretty much in line with timing. The quality of the workmanship was more important than the cost and we would absolutely recommend him to anyone." Lorri P.
It Was A Good Experience
"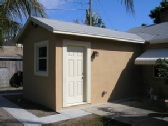 Todd built a laundry room addition for me. Overall it was a good experience; everything was really up to par. Todd is very methodical; everything he does is well planned. He is very honest and I felt very comfortable working with him. He always kept me in the loop and was where he was supposed to be. He was also very consistent." Kerri B.
LEH Built For My Neighbors Too!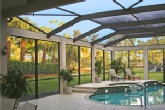 "After hurricane Wilma blew down our screen enclosure, we just put up a fence around our pool area. It didn't take long before we found that we weren't using the pool area very much because of the bugs. When I noticed the structures that Leading Edge Homes built for several of my neighbors and heard how happy they were, I knew that I wanted one too. It took some convincing of my husband to spend the money, but the results surpassed both of our expectations.
The roof lines and tile match perfectly, the covered patio has brought the needed shade we were looking for, and the screening solved the bug problem. I also take great comfort in knowing that the structure won't collapse if we get hit by another hurricane. The best part, however, is seeing how much time my family spends together outside on the covered patio relaxing in the shade or watching TV.
Thanks to everyone involved for doing such a superior job for us." Marcia W.
Ask to speak to these or other Leading Edge Homes,Inc. clients.
How can you become a raving fan? By having Leading Edge Homes, Inc. complete a customized remodeling project that meets your unique needs. If you can dream it, Leading Edge Homes can design it. We've even converted part of a garage into a dedicated bird aviary and stopped houses from sinking.